On a Whole30 and wondering what the heck you can have for snacks? I've got you!
Are Snacks Allowed on Whole30?
Though Whole30 does encourage you to be more intentional with solid meals that hopefully satiate you between meals, snacks ARE allowed. This is not a diet and you get zero points for ignoring your hunger. Here is the official Whole30 stance on it from this Whole30 Rules vs. Recommendations blog
As we explain in detail in It Starts With Food, eating three meals each day with minimal snacking (except pre- and post-workout meals) helps to keep your hormones in a healthy rhythm and teaches you to focus on eating mindfully. However, it's really okay if you find you have to eat between meals.  For folks who are used to eating six small meals, it might take some time to get used to eating just three big ones. For those who work really long days, you might find that four meals or three meals and a snack are in order. For kids and pregnant/nursing mothers, this recommendation goes right out the window; snack away (just make sure you're leaving about 3 hours between eating sessions, and not grazing all day). Sometimes, for no apparent reason, you just need a little something to get you through, and that's okay too.  The success of your Whole30 likely isn't riding on whether or not you have a mini-meal a few afternoons.
I will say, that learning to build my meals around the Whole30 Meal Planning PDF with 1-2 palm-sized servings of protein, a plate FULL of veggies, and healthy fat ON my plate was one of the most foundational nutrition habits I've carried beyond my Whole30. Building my meals that way, especially with more veggies and plated fat, I wasn't nearly as hungry between meals (i.e. I didn't need snacks often). BUT, sometimes meals aren't a big as was needed, or meals end up later than intended due to life, or a myraid of reasons that you might need a snack.
But should I have a snack?
I appreciated the Whole30 question of, "Would I eat chicken and broccoli right now?" In other words – if meat and veggies sound good, then I am truly hungry. If I only wanted something sweet like a Larabar or apples and almond butter, I wasn't really hungry – that was just a craving. Asking that question helped me make sure I wasn't feeding my sugar dragon but was also not falling into the diet mentality that snacks were bad and going hungry was good. Here are some other ways I used to determine if I was hungry or if it was a craving:
Also on the Whole30 Meal Planning PDF it states: If you need a snack between meals, make sure that snack includes two of the three macronutrients (protein, cabs, and fat). I will be listing individual snack items on this blog, but encourage you to mix and match accordingly to get two of the three macronutrients. For example, a piece of fruit is delicious but doesn't have the satiety staying power that protein and fat do! Thinking of snacks more as a mini-meal will also help shift that mindset from "snacks are fun treats to kill time" to snacks are "a great way to make sure your body has the fuel it needs."
Our favorite Whole30 snacks and where to find them:
Homemade Budget-friendly Whole30 Snack Recipes from my Blog:
Chocolate Date Balls (yes, allowed similar to Lara Bars, but best as emergency and travel food, not a Whole30 candy bar ; )
Whole30 Snacks you can Find at Most Stores:
Fresh fruit (did you know all fresh fruit is Whole30 compatible?!) and raw veggies. Pair one of these with a handful of nuts and two hard-boiled eggs and you have a Whole30 snack you can find at most grocery stores (and often gas stations and airports too) – wahoo!
Hard-Boiled Eggs
Raw nuts or roasted nuts (double-check they aren't roasted in a non-compatible oil like peanut oil)
Not at all stores, but fairly common:
Lara Bars (not all compatible, especially watch out for chocolate or peanut butter ingredients)
Almond butter – Double-check all ingredients are compatible
Fruit leathers (no sugar added)
LaCroix or other unsweetened sparkling water
Unsweetened coconut water
Lunch meat – Basic, but roll it up and pair it with a handful of nuts and some fruit. Easy! Compatible lunch meat can be a little hard to find, I find it most easily at Trader Joe's and occasionally Walmart (pictured).
Other favorite Whole30 Snacks
Chomps – My all-time favorite go-to meat stick that I keep in my car for emergencies, take with me on every hike, grab for a quick mini-meal when I have a meeting through lunch. I love pairing them with a handful of salted almonds and a cutie orange. I try to find them for under $1.50 each. You can find them on Amazon, Thrive Market, at some Walmarts (in the jerky aisle), or Trader Joe's (they sell them individually). My favorite flavor is the Classic beef (pictured), my husband prefers the Jalapeno Beef.
RockIt Snacks – I love that these satisfy the salty + crunchy AND have healthy fats plus protein in them. A fantastic grab and go snack or travel food. I buy mine from Thrive Market, though they are also available on Amazon.
RxBars – I appreciate that these have protein in them, not just fruit + nuts. They are an easy quick snack that has all three macronutrients in them (they have protein in them, unlike Larabars). Keep in mind though, these can easily be used as a Whole30 candy bar – so make sure you aren't grabbing them to feed your sugar dragon. I get them from Walmart, Target, or Trader Joe's.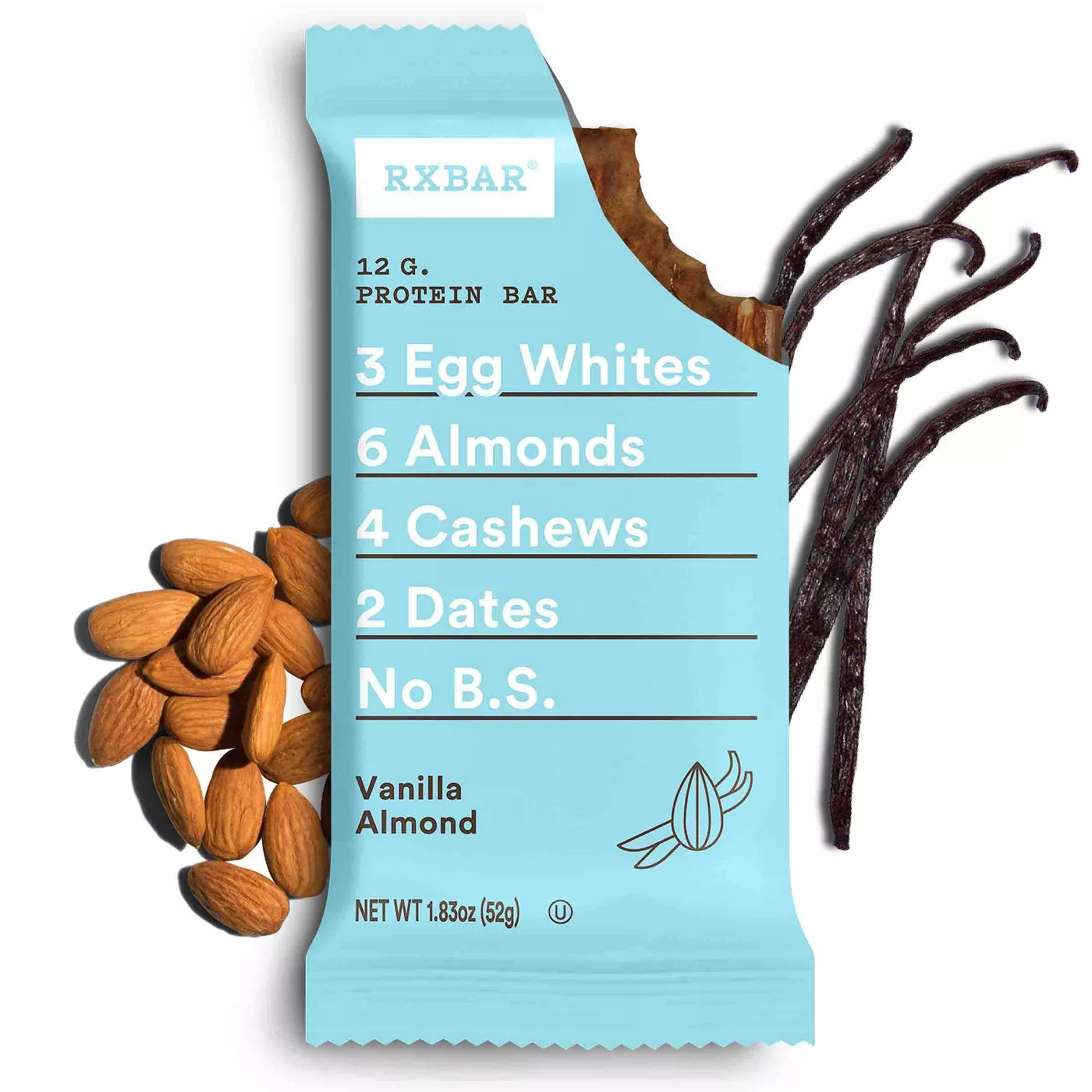 The New Primal Beef Thins – My favorite jerky. I love the fun thin crispy texture! I can't always afford it, but when it goes on sale I stock up. I get them from Thrive Market when they are on sale, you can also find them on The New Primal website.
What are your go-to Whole30 snacks? Feel free to drop them in the comments below!